Junk Removal in Troy
Professional junk removal in Troy is right at your fingertips! Click or call Junk Cow today to schedule your appointment, and we'll get that junk out of your way once and for all!
Instant Service Estimate
Tell Our Team What You Want Gone!
(248) 929-5865
Full-Service Troy Junk Removal
There's a lot that goes into junk removal. You have to pick up and transport all the junk to a vehicle. You have to clean up the floors as you work. Then, once you're finally done with all of that, you have to take that junk and move it straight to a local transfer station in Troy. This can take a good deal of time, and on top of that, it might even cost you money. What a chore. If you're spending money already, shouldn't someone be handling all this work for you?
Introducing our junk removal in Troy, MI! Getting rid of your clutter just got a whole lot easier. Instead of going through that painful junk removal process we just described, let us do it for you. It's really that simple!
Troy Junk Removal Services
Wondering how we can help you? From appliance removal to furniture removal, here's what we take!
Demolition Services
Junk Cow does junk removal, but we also do demolition! So if you have an old shed, barn, deck, or other structure that needs to go, then call on us!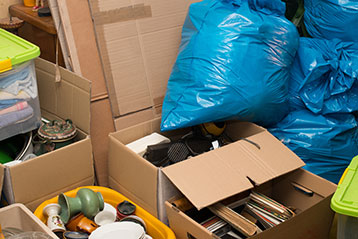 Prompt and Professional Service
Junk Cow is veteran-owned and operated. With a history of service under our belts, we approach junk removal with the same dedication. So when you call on us for junk removal or demolition, you can expect nothing but prompt and professional service. We do this by offering convenient appointments and upfront pricing. Of course, we always work efficiently to get the job done! Above all, we want to serve Troy and all of Oakland County well!
Schedule Junk Removal in Troy Today!
When you're ready to get rid of the junk, then Junk Cow is ready to work! You can book your appointment online by clicking Book Now. There, you'll be able to see the available appointment windows. Then simply select the one that works best for you. Of course, you can call (248) 929-5865 to speak with a junk removal specialist. We'll get you on the books quickly!
Our Other Troy Junk Removal Services Include…
Items We Accept
Office Supplies
Tires and Tools
Carpets and Rugs
Clothing and Toys
Electronics and TVs
Recyclable Materials
How Our Junk Removal Service Works You'll Always Know When To Expect Us
We don't expect you to wait around! That's why we'll give you a courtesy call when our crew is headed your way!
We Arrive Ready To Go
Our crew will always come prepared. First, show us what needs to go and then we'll give you a quote at no cost. If You Want It Gone, It's Gone!
After you approve our price, then we'll get right to work. In short, if you want it gone, it's gone! We'll Leave Your Place in Great Shape
We wouldn't dream of leaving your place a mess! So we'll load up large items and then sweep up any loose debris that's left behind.
Settling Up Is the Easy Part
Junk Cow accepts different payment methods. So you can pay how you need to!
Things To Know About Junk Cow
We are proud to be veteran-owned and operated!
Our crew is experienced, knowledgeable, and professional!
In many cases, we can offer you a same-day or next-day appointment!
Most importantly, we are ready and waiting to serve you!
Limited Time Offer
Save $20 When You Book Today!
Local Junk Removal & Hauling Services
Limited Time Offer
Save $20 When You Book Today!