Construction Debris Removal
With our construction waste removal service, your job site can go from cluttered to clean in a snap of your fingers.
Full-Service
Construction Debris Removal
Junk Cow is your go-to business when you need to get rid of construction debris in Oakland County. Construction workers know well how quickly piles of construction waste can pile up. Over time, it can get to the point where you're basically leaping over junk piles just to continue your project. Don't let the junk stack up to the point where it's slowing you down. Instead, schedule construction debris removal from us. We couldn't be happier to help you keep the job site clean and workable!
Local Experts for Construction Debris Removal
No more pausing your construction work just to shovel needless waste into a wheelbarrow. You stay focused on the important work, and we'll clean up the debris.
Don't want to rent a truck? Then don't. We'll bring our own junk hauling truck for you.
Our team hauls all your debris and loads it up in our truck. We don't expect your help.
It won't take us long to clean up your construction site and leave you lots of room to work with.
The disposal process is ours to deal with. This includes recycling any recyclable materials we collected.
The Cost of Demolition Services
With Junk Cow, you won't have to cough up a fortune just to get rid of some debris. In fact, you'll find our services to be priced fairly and affordably.
Volume-based. We calculate our prices by the truckload to provide you with a simple, scaling cost. You'll appreciate it.
Always upfront. Never wait until the end of the appointment to know what you're paying with our upfront quotes.
All-inclusive. Say goodbye to companies that charge you hidden fees. We play fair—meaning no surprise charges.
We Haul Away Construction Debris
Lumber
When you're constantly cutting up boards to make them the right size, you're inevitably going to wind up with some scraps. Let us handle those for you.
Drywall
Similarly, working with drywall usually results in a bunch of leftover scraps. That's why we step in to haul them away: so you never have to slow your roll.
Gravel
Filling one wheelbarrow after another with unwanted gravel can be a real pain in your neck. Perhaps you should leave it to us instead.
Insulation
Got piles of pink clouds crowding up the construction site? We will move them all into our truck and then handle the disposal process for you.
Tiles
Tile scraps that are no longer needed will be collected and removed by the Junk Cow team. You'd be surprised by how much time this can save you.
And More
Construction is already difficult enough work without having to deal with waste disposal. That's why you should let us help you with all the items listed here.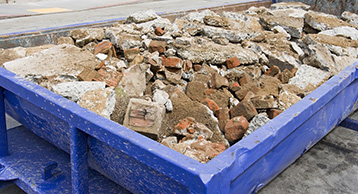 More Debris We Take
Concrete
Bricks
Cinder blocks
Vinyl siding
Metal beams
Wires
Construction Debris Removal: How It Works Book an Appointment
We can't help you if we don't know who you are. So why not give us a call today at 248-929-5865? You can also book online.
We Arrive
We show up on time with a big empty truck that's ready to be filled up with your construction debris. Just approve our service quote to begin. Tidy Jobsite
Our team doesn't waste your time with endless smoke breaks. Instead, we focus and get the job done—leaving you with a nice, tidy jobsite.
REVIEWS
Limited Time Offer
Save $20 When You Book Today!
Local Junk Removal & Hauling Services
Limited Time Offer
Save $20 When You Book Today!